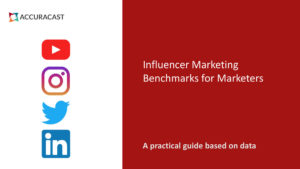 New research into influencer marketing from the UK's leading multilingual digital marketing agency AccuraCast has revealed the waning impact of mega influencers across social media platforms.
Micro influencers, defined as having between 10,000 to 99,999 followers or subscribers on a single platform, demonstrate better return on investment for marketers than mega influencers, as typically they tend to receive a greater rate of engagement per thousand followers.
Analysing close to 60 million influencer engagements across Twitter, LinkedIn, YouTube and Instagram and aggregating these per thousand followers, AccuraCast's study has been designed to normalise engagement across different platforms to provide a fair comparison of influencer metrics.
Key findings to inform social media engagement include:
Twitter
This platform has a fixed level of engagement per thousand followers
Multiple micro influencers would receive the same level of engagement as a single mega influencer
LinkedIn
There is a negative correlation between engagement and number of followers
Brands are more likely to drive engagement by using in-house influencers
Instagram
A very slight increase occurs in the number of likes per thousand followers as the person's influence grows
Micro influencers drive greater engagement on Instagram
YouTube
This platform receives the best engagement per thousand followers but delivers the lowest click-through rates
This is the only platform where greater popularity means disproportionately higher rates of engagement
This is the only platform where mega influencers are more effective
Farhad Divecha, Managing Director and Founder at AccuraCast, said: "While influencer marketing is nothing new, what we've discovered proves you don't need to spend big to get your brand recognised online. In fact, our research shows that you could even be wasting marketing spend by going after the superstar mega influencers like your Kylie Jenners or Joe Wicks of the fashion and food worlds. For the major social media platforms bar YouTube, a smart and more cost-effective way to target your key audiences is by partnering with micro influencers to drive engagement. It is these people that offer the best chance to connect with customers as social media users are more inclined to contribute to conversations with these public figures than with global superstars."
"This is particularly true for B2B brands with LinkedIn revealed as the 'anti-influencer' network. For businesses operating in this area, we would even suggest harnessing the reach of your internal stakeholders or in-house influencers than to partner with micro or mega influencers on this platform," added Farhad.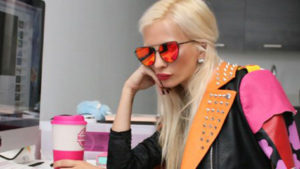 Katerina Perez, a jewellery blogger with around 225,000 followers on Instagram, said: "There is obviously an increase in the amount of engagement an influencer receives on their posts with the more followers they have, but this relationship is disproportionate. You may have 1,000 followers and receive 50 likes, but when you reach 10,000 followers it doesn't mean you'll automatically get 500 likes. The quality of engagement is key and a genuine marker of success – real people that leave authentic comments inspire more interesting posts and these can be achieved by working with micro influencers as well as mega influencers to reach a highly targeted audience."    
AccuraCast's study into influencer benchmarking collated more than 59 million engagement data points including the number of likes and comments for a random selection of 1,200 influencer posts.
Source: AccuraCast