Disruptive mobile marketing platform, Bubbl, has appointed Taz Hossain as Chief Revenue Officer (CRO) and Ollie Aynsley as Head of Commercial, as the business continues to onboard talent following a recent, significant funding round.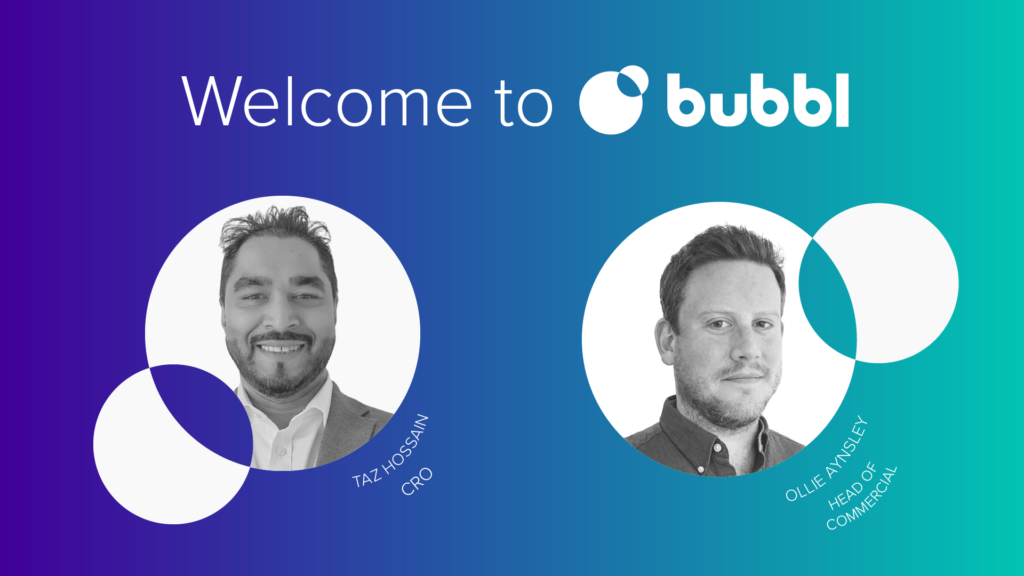 As the world's first hyper mobile 'out of app' marketing platform, Bubbl delivers relevant, situation specific content and offers to app users, driving engagement and delivering ROI thanks to dynamic, context based messaging via push notifications, video, audio, surveys, mcommerce and using a variety of contextual triggers including geofencing.
In the newly created role of CRO, Taz Hossain will drive revenue and growth, building Bubbl's Channel Partnership customer base, bringing its disruptive tech to more clients across sectors such as transport, retail and events, as the go-to mobile marketing platform for these industries. An expert in connecting digital technologies to disruptive retail experiences, he was most recently at Newable, advising hundreds of companies as an Innovation and Growth Specialist. In a career spanning more than twenty years, his first role was at agency, Framfab, now DigitasLBi, while his vast range of experience has included building businesses from scratch, becoming a franchise owner and managing director at Panasonic, advising regulated financial services brands, and building systems for brands such as Lastminute.com and AXA.
He says: "I'm delighted to join the hugely innovative Bubbl team, having spent the last 24 years in traditional businesses, using digital as a change agent. We're focused on creating a data bridge that connects the physical and digital layers, via consent and first party data – and at a time when the market needs this more than ever."
As Head of Commercial, Ollie Aynsley will help to drive the implementation of strategies, aligning product and sales teams, onboarding new customers and developing scalable processes. Having worked in a variety of industries, and run an app development company for three years, he helped to grow the company from a standing start to £2M a year in revenue. He was formerly also part of a team that worked with leading sporting bodies, events and ecommerce platforms for major events and national sides including London 2012, the Glasgow 2014 Commonwealth Games, Rio 2016 Olympic Games, The Football Association and England Rugby.
Ollie adds: "I can't wait to help our clients to explore new data journeys and create extraordinary brand experiences.  This technology will leverage the largely untapped power of hyper targeted content with real world context –  Bubbl genuinely connects brands and consumers dramatically improving the engagement experience for both. Our location-based and privacy safe tech helps businesses around the globe reach audiences and break boundaries with personalised content. I can't wait to see what we will achieve together."
Jo Eckersley, CEO and Founder of Bubbl, says, "Following significant investment from CAN Advertising Network, joining other new Angel investors in this round, we will be closing this Seed round soon, and are now moving into a fully fledged commercialisation phase. This means our fast-growing team is delighted to welcome Taz and Ollie on board, to help us deliver industry-leading mobile technologies to a growing roster of clients in sectors such as transport, retail, events and sport."
Lloyd Clark, managing director at CAN Advertising Network, adds: "Bubbl is poised to create a new paradigm for app monetisation by helping brands leverage informative, entertaining and engaging messaging and communications through ground-breaking technologies and in brand-safe, mobile environments. We intend to leverage the capabilities to enable the public sector to engage citizens and support the local economy by reaching residents where and when it is most useful."
Source: Bubbl