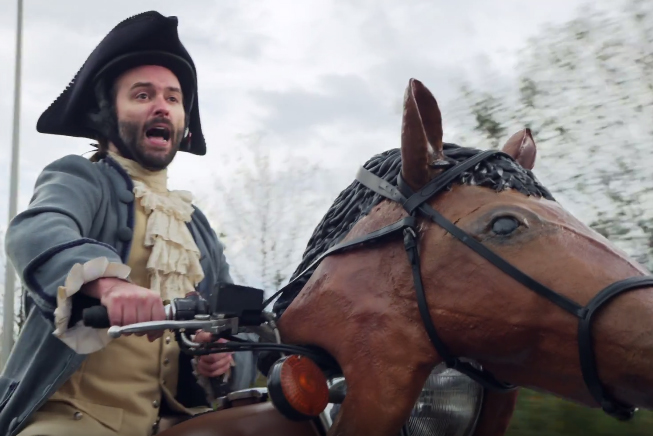 Paul Revere wants you to know one thing: the deadline is coming.
In a new spot from Barton F. Graf, the original American herald speeds down a highway on a motorcycle with a horse head mounted to the handlebars, yelling to all who can hear that it's time to enroll for health insurance.
"It's an intentionally weird visual," said agency founder and chief creative officer Gerry Graf. "It's funny, but if I'm on Facebook watching a video with the sound off, what's going to make me stop and ask, 'What the heck is that?'"
The spot is the agency's own contribution to its Coverage Coalition campaign, an initiative calling on other agencies—and anyone else in the industry—to donate PR, SEO, creative, air space, anything they can, to balancing out the Trump administration's 90 percent reduction in advertising for the Affordable Care Act enrollment period. "This is a problem we're uniquely equipped to solve," said senior copywriter Brad Phifer.
With 5- and 15-second versions available in addition to the full 30-second ad, the video is share-ready. But it will also reach viewers the old-fashioned way: TV. Thanks to an early partnership on the campaign with Park Pictures, "Paul Revere" will air in Texas, Louisiana, Georgia and Iowa. "States that need it the most," said account director Kate Callander, "with either the highest [ACA] enrollment rate last year, or that had their media budgets cut the most. It's a mix of where we can get the media and who needs to see it."
All the air time was donated, and it's far from enough, added art director Zoe Kessler. "We need more space to get out the work we're doing. If anyone has media dollars or space to donate, that's the biggest bump we're running into."
Getting the right assets in front of the right people has been the guiding principle of the Coverage Coalition. "What got me really excited was that we can have an immediate impact by just getting information in front of people," Graf said. "We can actually cause change right now."
To do that, Barton needed to know who to focus its energy on, so the agency started with market research into which groups are particularly at risk for missing the deadline. Among others, the research identified a particular need among residents of high-enrollment states impacted by federal funding cuts, and millennials who are reluctant to sign up but whose participation is essential for keeping costs down. As a result, there is a significant focus on social assets, and Barton is translating many elements into other languages, including Spanish and Chinese. "The whole thing has been about targeting and not wasting any media energy," said Graf.
Since the brief went out on Oct. 17, Barton has fielded donations from over two dozen agencies, studios, media companies and other content creators. Assets have included print, video, social, even OOH. "We never expected to do TV or out of home—the opportunities just came in," said Graf. "It's really developing day-by-day based on the time and experience people are donating."
Social assets went out first, with a bigger push on Nov. 1, when the enrollment period opened. As the donated creative makes its way into the world, Barton is closely tracking which assets are yielding the highest engagement and will use that data to inform what they promote and place. "The creative was not the number one priority," said Graf. "Our priority was the targeting, who we wanted to get things in front of."
That's also why the agency has been careful to erase any indication of politics from the campaign. While several chapters of the Democratic grassroots group Indivisible have used Coverage Coalition assets in their enrollment drives, the assets themselves don't adhere to any party line. They always refer to the health care law as the ACA, not Obamacare, and they focus solely on enrollment itself, not the actions by the Trump administration that inspired this push in the first place. Because if politics seeps in, the campaign will fail some of the people who need it most.
"It's easy to blame Trump or the right, but the people we need to get information in front of are just as likely to live in a red state or be Trump followers," said Graf. "If we got political, it would shut their minds off, and they wouldn't get that information.
Source: Campaign Live