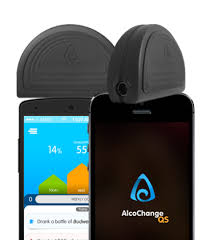 A smartphone app that "nudges" patients with alcohol-related liver disease away from their favouritedrinking dens and off-licences is being trialled by a London hospital.
Sixty patients whose drinking has resulted in them being admitted to a ward at the Royal Free hospital, Hampstead, will be enrolled on the scheme.
The AlcoChange app uses GPS technology to send alerts if a patient is near a regular drinking area or shop selling alcohol. It can also measureintoxication levels when the patient blows into a breathalyser plugged into the phone's headphone socket.
Dr Gautam Mehta, honorary consultant at the Royal Free and senior lecturer at UCL, said patients often needed help to prevent them returning to the bottle. More than one in three UK adults drinks to harmful levels, and 600 people a year with alcohol-related liver disease are admitted to the Royal Free.
Dr Mehta told the Standard: "These people tend to come back into hospital. Forty-four per cent are re-admitted within 12 months. If they carry on drinking, 50 per cent will be dead within three years. But if they stop drinking, more than 80 per cent are alive after 10 years."
Source: Standard